For one more way to manage your chores, check out the aptly-named Chores iPhone app:
Every day we create and deal with lists – books to read, groceries to buy, movies to rent. Chores is the completely simple way to manage and create lists that matter to you. Use it to complement your personal workflow. With Chores you can get things done without GTD – it's personal productivity for the rest of us.
Here's a look at a couple of the app's screens: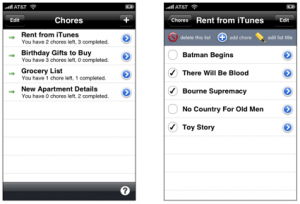 The Chores iPhone app is available for download for $4.99: Get Chores @ iTunes
.