Ever get tired of reminding everyone to prep their clothes for the wash properly — or do you usually the one who has to check pockets and zip up pants before tossing them in the washing machine?
To help, here's a simple to-do list you can hang on your laundry room door or by the clothes hamper.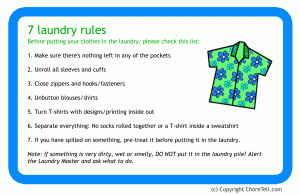 Here's what the text says:
Before putting your clothes in the laundry, please check this list:

1. Make sure there's nothing left in any of the pockets

2. Unroll all sleeves and cuffs

3. Close zippers and hooks/fasteners

4. Unbutton blouses/shirts

5. Turn T-shirts with designs/printing inside out

6. Separate everything: No socks rolled together or a T-shirt inside a sweatshirt

7. If you have spilled on something, pre-treat it before putting it in the laundry.

Note: If something is very dirty, wet or smelly, DO NOT put it in the laundry pile! Alert the Laundry Master and ask what to do.
This laundry/chore sign was created to fit half of an 8-1/2×11 sheet of paper, in portrait orientation.