Some people think that grocery shopping on the web is an extravagance. But with some basic planning, you can not only pay the same price — or less — plus get delivery to your home, which saves you both time and money.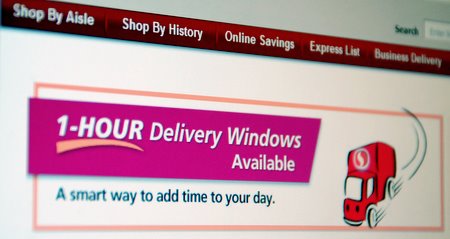 Here are a few supermarkets that offer delivery to your door:
National grocery delivery
NetGrocer.com – Offers a full range of groceries, including frozen, for home delivery. Also provides service to the following military zip codes: APO/FPO AA, AP, AE.
Groceries-Express.com – Offers nationwide delivery of standard groceries; northern Detroit, Michigan residents can have frozen foods delivered.
MyBrands.com – Offers most typical  grocery products, and some regional and holiday favorites that may be hard to find.
Shelf-stable grocery delivery
Amazon Grocery – The well-known web retailer offers thousands of non-perishable items, and offers large discounts for subscription items that are delivered at regular intervals.
Regional grocery delivery
Safeway.com – Online shopping and delivery in Northern California; Portland, Oregon; Seattle, Washington; Greater Phoenix, Arizona; Maryland, Philadelphia and Washington DC.
Peapod – Grocery delivery to the door for New York and New England residents, as well as in Washington DC and Chicago.
Hy-Vee – The Midwest grocer provides online shopping as well as home delivery of flowers, party platters and baked goods.
Amazon Fresh – Currently available in the Seattle area only.
FreshDirect – New York City's online grocer with fruit, vegetables, meat, and seafood, cheese and deli goods plus prepared meals delivered to your door. Enter your zip code to find out if they deliver to your neighborhood.
PinkDot – Fast grocery delivery services to the Los Angeles area.
Ethnic/international grocery delivery
EthnicGrocer.com – Delivering foods from around the world to customers in the United States.
eFoodDepot – Asian, African, Middle Eastern and Eastern European food, delivered to US addresses.
Natural foods/organic grocery delivery
GoBio.com – Delivers organic food in the USA and Canada.
Greenling – Food straight from the farms – and if they don't serve your area, they will tell you who does!
Spud.com – home delivery of fresh produce and local organic foods in the Portalnd, San Francisco, Los Angeles and Seattle
Amazon
– Shelf-stable organic food delivery nationwide.
Frozen food grocery delivery
Schwans – Frozen foods delivered to your home in regions across the US from about 500 distribution centers nationwide.
Non-food grocery delivery
Soap.com – From beauty basics to cleaning products, to diapers and other household necessities, Soap.com offers 25,000 products and more than 900 brands that they will deliver to your door.
Drugstore.com – A great go-to for health, beauty and skincare — as well as prescriptions and contact lenses.