You're busy, with little time to spare. Why not do a little double-duty by letting your shoes help you get a bit more fit as you go about your day? Here's a look at three multitasking fitness shoes from Reebook, FitFlop (Oprah's fave) and Dr Scholl's!
Dr Scholl's Women's Original Exercise Sandal

Easy to slip on and off, but sturdy enough to manage less typical flip-flop friendly surfaces, Dr Scholl's is the classic exercise sandal.

The contoured wooden sole has a raised toe grip that encourages a gripping action, thereby helping shape the legs by toning the calf and leg muscles. [Find out more about Dr Scholl's Women's Original Exercise Sandal
]
FitFlop Women's Walkstar Thong Sandal

FitFlops incorporate a multi-density midsole, which means the uses varying densities of EVA plastic (Ethylene Vinyl Acetate) to challenge the support and balance muscles of both the foot and leg.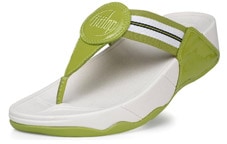 By wearing a pair of FitFlops, you'll get more exercise while doing just exactly what you would be normally be doing.
In independent university testing, these sandals were reportedly shown to trigger increase gluteal muscle response, increased hamstring response, as well as increased thigh and calf muscle response.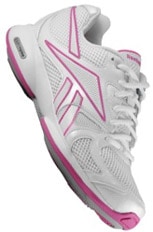 The company's goal: "to create the world's most efficient dual-use fashion/fitness products." [Find out more about FitFlop Women's Walkstar Thong Sandal
]
Reebok Easytone Inspire

The Reebok Easytone Inspire walking shoe features are specially designed to help tone key leg muscles — primarily targeting the hamstrings, gluteus maximus and calves.
"Balance pods" are built into the shoes to create little instability (they compare it to walking on a beach), so your legs work a little harder with each step. [Find out more about Reebok Easytone Inspire
]